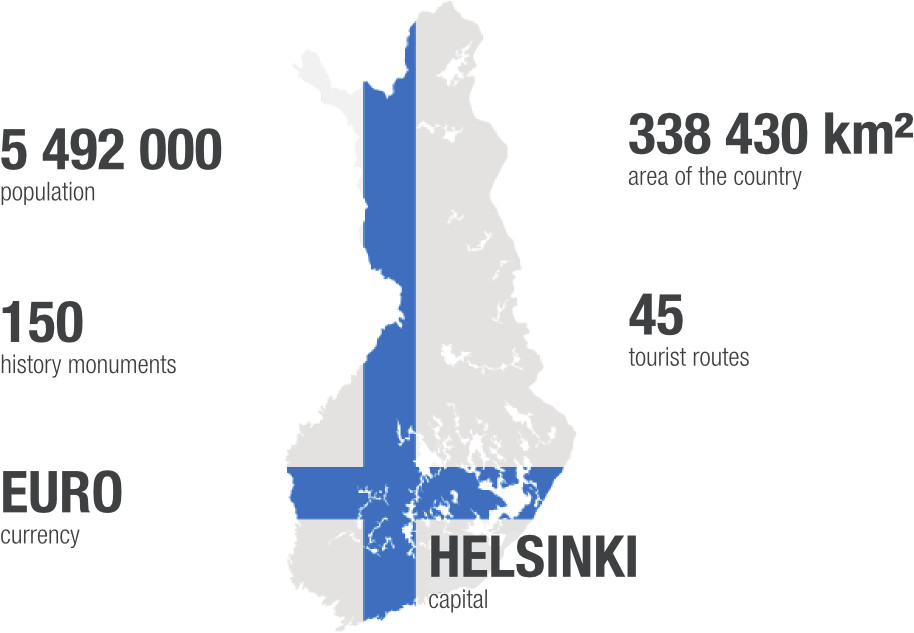 5
Things Experiential Travel To Finland Means
Staying in: Accommodation in Finland is always reflective of nature, history and heritage of the area. Snow and ice inspired glass Igloos in Finnish Lapland. Lakeland resorts are 'worlds of wellness and outdoors' on their own with lakeside saunas as a special feature. Top hotels of Helsinki carefully preserve art nouveau facades of their buildings and broadly use design-thinking for the most memorable and yet very comfortable guest's stays.

Dining out: Specialities in cuisine vary depending on what the Finnish region is rich with. Sauteed reindeer is Finnish Lapland traditional treat, but Arctic sea connections contribute to King Crab servings in selected restaurants. In all of Finland local produce is something to be proud of, so let the seasonal organic concept prevail. There are Michelin-star restaurants in Helsinki, over 30 restaurants that are enlisted in Michelin guide and also Russian Empire themed restaurants with noble traditions of serving 'blinis' with caviar.

Socialising: Yes, here comes the Finnish sauna! Among most famous public baths in Finland Loyly Helsinki has made its way to 'Times 100 Greatest Places 2018'. Another great way to socialise in Finland is taking part in various outdoor / indoor activities that small family businesses offer. Among the signature ones are crafting decorative items from reindeer horn in Lapland, fishing or hiking in Lakeland with a local, taking culinary masterclasses in Helsinki.

Seasons: Northern Lights are visible in Finnish Lapland from Mid-August to April. Midnight Sun is to be experienced in the North in June and July. But there's much more in seasonal sense that is dear to Finns. 'Golden Autumn' is the time of nature transformation, and 'White Nights' is all over Finland fun. All year round Finland is a great getaway place. 'With active outdoors and cozy indoors' even a weekend break in Finland can benefit Your mind & body.

Culture: Not only museums or Unesco sights are counted to say that You've been exploring the culture of Finland on vacations. Enjoying the snow in winter in many ways is culture in Finland, biking through National parks is a cultural exploration too. However, the are 7 Unesco sites in Finland, Suomenlinna Fortress in Helsinki being one of them. There are around 1000 museums in Finland, among which 300 are open all year round. In 2012 Helsinki has been the design capital of the world, and this is well-deserved, because some of the worlds most renown designers are Finns. Eliel Saarinen, Alvar Aalto, Harri Koskinen – those names are mentioned as game-changers in world design thinking.
Finland has one of the highest standards of living in the world. The incredibly harmonic coexistance of high tech and pure nature in this country has nothing in the world to be compared with.
The air stays fresh and unpolluted even in the center of the capital. Tap water is safe to drink and is served in the restaurants. Hares feel comfortable in the cities and cross the roads along with pedestrians. Notwithstanding such availability of nature, about 95% of the population has Internet access here. Finland has become the first country in the world to declare broadband Internet access a legal right.
Nature, comfort, safety and a high level of service are the key pecularities of this country which attract tourists from all over the world.
all pictures on the website belongs to Visit Finland