Conferences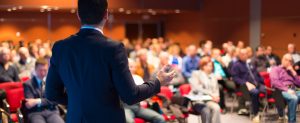 We recognise that our clients operate in complex organisations with many stakeholders, each of whom may have slightly different priorities. We understand this environment and that is why we work with our clients to create and deliver effective
and interesting conference solutions.
Our service set includes a wide range of different aspects required to create and run an effective conference, and we are happy to provide some or all of them, as requested. These services include:
Venue sourcing and validation
Venue and supplier contracting
Delegate management, badging & travel logistics
Delegate communication, including using App technologies
Accommodation and transport
Staging & production – including lighting, sound and data
Pre-event filming, opening videos, speaker stings
Content development including shaping agenda
Speaker content development in PowerPoint, Keynote and Prezi
Sourcing guest speakers, activities, team building, breakout sessions
On site event management, hosting and registration
Post event follow up and feedback
Cascade meetings and communication tools, including videos and webcasts
We are not dazzled by the elegance of the staging; our production teams tend not to turn up in 32 tone articulated lorries – unless the situation calls for it, of course. What we are focused on is getting the desired messages across to the audience
as efficiently and effectively as possible.
Our programmes have included conferences for: Mitsubishi, Teboil, Jaguar, Pharmastandart, British Petroleum, MosGaz, KievStar, Philip Morris International, BRP, Land Rover.